M a s t e r i n g S t u d i o
Our aim is to provide a good, clean, dynamic cut. With experienced Disc Cutting Engineers from the heyday of vinyl we are also one of only a dozen studios worldwide capable of cutting masters from analogue tape without any digital intervention for a pure 100% AAA analogue cut. For audio purists, the latest model Neumann Disc Mastering Console provides all the warmth and transparency of the analogue record format. When cutting from digital files there is no cheating or cutting corners - the digtal audio master is converted to analogue once and once only and remains in the analogue domain right up to being cut as a groove on the lacquer master disc.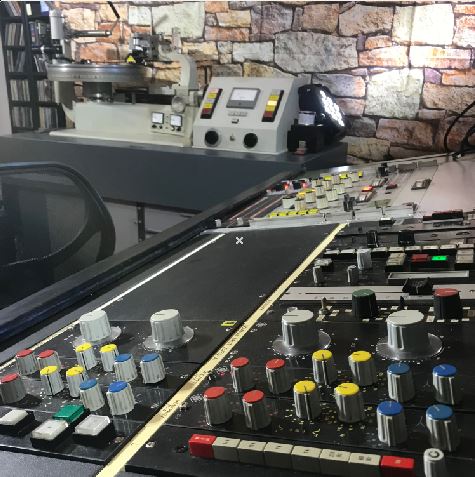 In designing a premier facility, the equipment was carefully chosen and meticulosly serviced and installed by John Schell, our Chief of Engineering and the inventor of EMI Records' "Maxicut" process.

In line with the finest European studios, we've integrated some highly regarded Ortofon disc mastering equipment such as the GO741 cutting amplifiers known for their "sweet" sound; the STL732 HF Limiter, famed for its legendary transparency while taming high frequencies and the super rare QLL744 4ch compressor / limiter which is one of only a few made.

We look forward to welcoming you to the analogue world of XL.

.
THE LATHE: This low hours, one-owner Neumann VMS70 was owned by CBS Records / Sony Music Australia where it cut the entire CBS-Sony and Warner Music catalogues amongst others - this includes Australian platinum selling albums by INXS, Men At Work, Rolling Stones, Led Zeppelin, Bob Dylan, Bruce Springsteen, Pink Floyd, Madonna and Fleetwood Mac. Having sat in a glass display case in the Sony foyer for the last 28 years it 's a pristine example of a VMS70 in mint condition. The other lathe was originally owned by Deutsche Grammophon, Germany and came to us complete with their proprietary modifications for cutting classical records.

MASTER AUDIO FORMATS:
Analogue Tape : 1/4", 15/30ips, NAB/CCIR/IEC, Dolby A and SR Noise Reduction.
Digital : We accept WAV and AIFF files up to 192kHz and 24 bit. Prefer not to work from MP3 files.